Regular price
‎₹ 1,059.00
Regular price
‎₹ 2,999.00
Sale price
‎₹ 1,059.00
Unit price
per
Sale
Sold out
Please Book Your Prepaid Order And Get Fast Delivery,Free Shipping And Additional Discounts...
Quickly Iron Your Folded And Crumpled Clothes........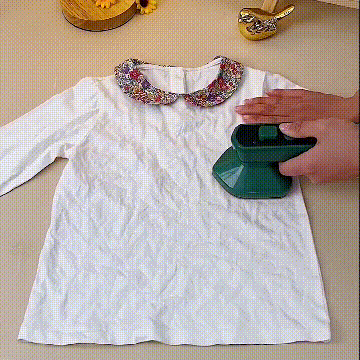 About Product:-
1:- High-Temperature Strong steam can easily ironing clothes, curtains, sheets, Pillowcases, Etc.
2:- Easy To Use :- The Delicate water mist, moisturizing and ironing, does not damage the fabric, and the Effect is Good.
3:- Portable Ironing Machine :- Ergonomic and Comfortable Grip. Equivalent to the weight of a "pad", the girl is not load bearing and supports the weight with only one hand. Lightweight and Easy to Carry in Your Suitcase.
4:- Constant Temperature Protection :- 302.0 ° F constant temperature heated sole plate, ceramic sheet heating, ironing does not harm clothes, can be used in ironing, curtains, sheets, pillowcases, etc. Especially the need to iron vertical clothing (such as suits, etc.)
5:- Large Capacity Water Tank :- With 3.4 fl oz Water Tank, it can be quickly heated in 30 seconds, ironing is more durable. The water tank adopts a transparent design, you can observe the changes of the water level at any time, and ironing is More Secure.
6:- Triangular Front Design :- The Front of the heating plate is designed in a triangular tip shape, allowing flexible ironing of tight areas such as buttons, lapels and collars, allowing details to be Elegantly Displayed.
7:- Cleaning Characteristics :- High Temperature and strong steam can easily dissolve and remove oil stains, dirt and mildew stains on the surface and cracks of household products. In the expulsion of high temperature steam at the same time, it can rub the surface of objects, clean simple and fast, the Effect is Remarkable.
Why You Buy It :- 
1:- Triangular Tip Shape Front-end Design :- Which Allows flexible ironing of narrow areas such as buttons, plackets, and collars,allowing the details to be Displayed Elegantly.
2:- Dry and Wet Ironing 2 In 1 :- Ironing After 30 seconds of turning on; Wet ironing: After taking out the spray bottle, press the spray button to spray. After turning off the spray, you can start Ironing.
3:- Does Not Hurt Clothes :- Heated sole plate at constant temperature of 320°F, titanium sole plate heating, ironing does not hurt clothes, can be used on silk, plush, wool, cotton, linen, polyester, nylon and Other Fabrics.
4:- Mini Steam Iron :- Our micro steam iron is very small and mini, size: 7.6 in * 2.9 in * 3.5 in, weight: 0.8 lb. Very suitable for traveling on Holiday or Business.
⚡️Limited Stock Available - Only Few Unit Left !
                          COD Available
Share
View full details